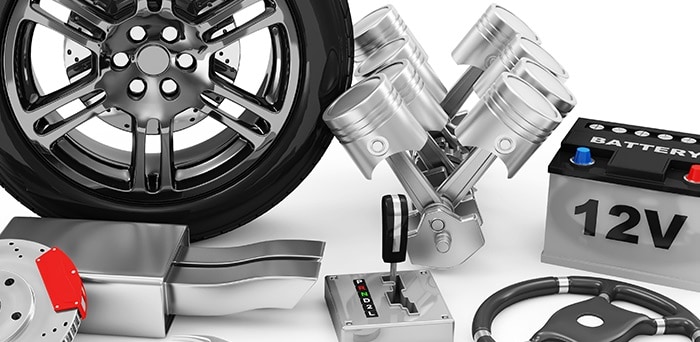 Welcome to our Parts Department.
The Parts Department at Dueck on Marine maintains a comprehensive inventory of high quality genuine OEM parts. Our highly knowledgeable staff is here to answer your parts inquiries. Should we not carry a part for which you're searching, we can always order it for you and receive it within a timely manner.
A vehicle is made up of thousands of different parts. However, the parts that manufacturers use can be quite different than the parts that are found in the aftermarket. Every part in your new vehicle is designed, engineered, and manufactured and goes through an extremely stringent quality verification process. The expectation from customers is that General Motors products offer only the highest quality products in the automotive industry.
Dueck on Marine understands that residents of Richmond, Burnaby, and Surrey don't want to jeopardize their investment by installing bargain or aftermarket parts. These parts may be designed as a replacement part; however, quality and longevity cannot be measured. 
There is a noticeable difference between installing genuine parts from Chevrolet, Buick, GMC, and Cadillac, then others from an aftermarket supplier. We've also made it extremely easy for consumers to acquire their genuine parts; you can either contact us or order parts online if you know exactly what you're looking for.
Parts Request
* Indicates a required field
OEM Parts For Your Vehicle
At Dueck on Marine, the use of genuine OEM parts is an essential component of what we do. Only OEM parts offered from our parts department are designed and engineered to fit your Chevrolet, Buick, GMC, and Cadillac. 
 A popular reason that automotive consumers choose aftermarket parts over OEM has to do with cost. In some cases, aftermarket parts tend to be more cost-effective; however, some points to keep in mind include: genuine OEM parts are designed and engineered for your specific vehicle. 
There should not be any issues with fitment or quality, either as each part is attached to your particular VIN. Our highly dedicated and trained parts advisors will not let you travel this journey on your own; they are here to help you every step of the way. Making sure you receive the correct advice and proper part for your Chevrolet, Buick, GMC, and Cadillac.
So Much More Than Parts
Dueck on Marine is proud to offer a state of the art service facility that highly recommends installing genuine OEM parts. Our trained service advisors will help you with sound advice regarding the condition of your vehicle. 
If they can't find the answer, our fully trained and licensed technicians will be sure to diagnose any issues you may have. Also, don't forget to visit our showroom and vast inventory with over 300 vehicles to choose from; we're sure to have the right one for you. 
If you have any questions please don't hesitate to contact us for more information.
Your privacy is important to us.
Dueck on Marine takes your privacy seriously and does not rent or sell your personal information to third parties without your consent. Read our privacy policy.
Hours
Monday

8:00AM - 5:00PM

Tuesday

8:00AM - 5:00PM

Wednesday

8:00AM - 5:00PM

Thursday

8:00AM - 5:00PM

Friday

8:00AM - 5:00PM

Saturday

8:00AM - 4:30PM

Sunday

Closed
See All Department Hours
Dealership Hours
Monday

9:00AM - 8:00PM

Tuesday

9:00AM - 8:00PM

Wednesday

9:00AM - 8:00PM

Thursday

9:00AM - 8:00PM

Friday

9:00AM - 6:00PM

Saturday

9:00AM - 6:00PM

Sunday

10:00AM - 5:00PM
Parts Dept. Hours
Monday

8:00AM - 5:00PM

Tuesday

8:00AM - 5:00PM

Wednesday

8:00AM - 5:00PM

Thursday

8:00AM - 5:00PM

Friday

8:00AM - 5:00PM

Saturday

8:00AM - 4:30PM

Sunday

Closed
Service Dept. Hours
Monday

8:00AM - 5:30PM

Tuesday

8:00AM - 5:30PM

Wednesday

8:00AM - 5:30PM

Thursday

8:00AM - 5:30PM

Friday

8:00AM - 5:30PM

Saturday

8:00AM - 4:30PM

Sunday

Closed