No Charge Brake Inspection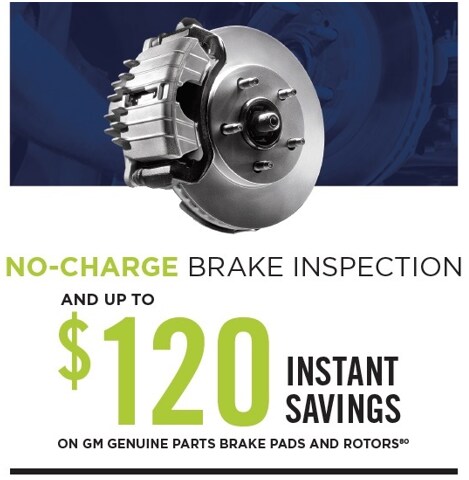 No Charge Brake Inspection
To keep your GM vehicle healthy, Dueck is pleased to offer a No Charge Brake Inspection Promotion until September 30th.
By getting your brakes checked by our Dueck Certified technicians, this could save you from a costlier repair down the road and will ensure your brakes are safe for this season.
Following our complimentary inspection, if your brakes do need to be replaced, you can also receive discounts of up to 
$120 for GM Genuine Parts brake pads / rotors.
Offer is available from August 1st to September 30th and only available on GM vehicles.
When to Repair or Replace:
Brake Pads
You hear chirping, grinding or squealing sounds
You have difficulty stopping
Your brake-pedal height feels low
Brake Rotors
Your brake pedal pulses or vibrates
You hear a squealing or grinding noise
Your vehicle pulls left or right when applying the brakes
Genuine GM Parts -  Brakes &
Rotors
36 Month / 60,000 KM Limited Warranty
Genuine Parts Brake pads and rotors are inspected and engineered for your GM vehicle
Our brake pads are the best available with excellent heat characteristics and long-life performance
Genuine GM Parts Rotors are fully painted for maximum corrosion resistance.